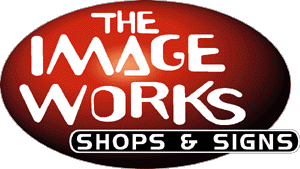 At the Image Works we offer a wide range of sign types to suit all your requirements from small free standing "A"- boards, Window graphics and Point of Sale signs to large shop front signs. With a massive choice of colours to choose from some visually stunning designs are possible.
We can supply and fit the following sign types:-
If you would like to contact us with any enquiries please Click Here
High Resolution Wide Format Printing
Plastic Signboard in an Aluminium Frame
"Does exactly what it says on the tin" basically an aluminium frame is mounted to the wall, a plastic sign board is then slid in and the end of the frame fitted to secure it . Frames and boards are available in a range of colours and can be virtually any size.
Frosted Etched Glass Effect Window Signage
Made from self adhesive vinyl, these are a very effective type of display. Any logo or text can be cut out leaving either, clear text on a frosted window, or frosted text on a clear window. They allow full light transmission but restrict view completely through the frosted areas, making this material excellent for improving security by preventing passers by looking into windows.
The lettering is computer cut from Perspex, Aluminium or Stainless Steel and is the mounted on a series of mounting to raise the letters off the background. Giving a neat, tidy stylish looking sign.
Folded Trays in Aluminium and Dibond
Folded tray signs are a neat, modern type of sign. The sign is formed as a box, usually about 50mm deep, but they can be deeper of shallower if required. All the mounting fittings for the sign are hidden from sight within the sign itself, making the finished sign very clean and tidy. The trays are available in a wide range of colours and can be made to virtually any size required.
If you have any photographs of our shop or sign work that you would like us to include on this page, please contact us

Back to Home Page
---
This page was last updated on 03 March 2008 22:43